This week was a different kind of week for us b/c we just finished our TOG Unit 1, so we allow The Elders to study for a unit exam. It's a great review, by using their notebooks, writing, outlines, summaries, and projects, they are able to hit areas one last time before moving forward. We created a list of what to study on Monday, then I let them go for the week. By Friday afternoon, they answered 15 multiple choice, filled in 15 timeline blanks, labeled all of South America, early USA, including the Lewis and Clark expedition, 10 questions of literary terminology, and a one page essay on any individual they chose from their famous people collections.
D. and the Little League reviewed by creating lapbooks/activity books on South America that included: Layers of the Rainforest song, map, word r, booklets on topography, animal fact cards, snake book, flags, cards to play Concentration, Go Fish, or if they combine 2 sets, Rummy, and a Simon Bolivar board game. We combined activities from HomeSchoolShare, SOTW, Enchanted Learning, and some general scrapbooking! Good, fun, easy review and something we don't do very often.
We completed Week 19 in PR1 and Week 2 in PR3.
Everyone kept moving along in Noeo Chemistry, all 3 levels. I got some pics of an experiment in science this week. We tested Helium and Hot Air and the how and why they help balloons float. Pics are not ordered and I don't have any more time for blogging! Later, I'll fix it!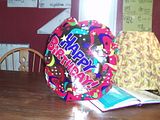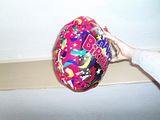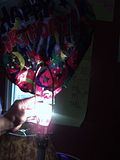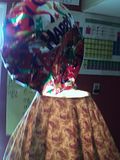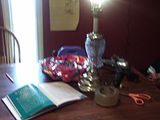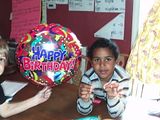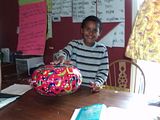 We progressed normally through math (too many to list) and had a great week in Holey Cards.
We moved along in Spanish and Latin, too and the rest of our computer work.
I finished The Read Aloud Handbook and That Crumpled Paper Was Due Last Thursday. I also reviewed WTM latest addition on Logic Stage. I'll be starting Rhetoric (gulp) next week!
I got to order some curriculum that I didn't pay for! A double bonus!
And finally, a personal favorite, we saw The Little House on the Prarie, the Musical, starring Melissa Gilbert as, Ma. It was awesome! Not only do I love theatre, I love this story, and we all, even Lil' Axel, had a great time!